Bio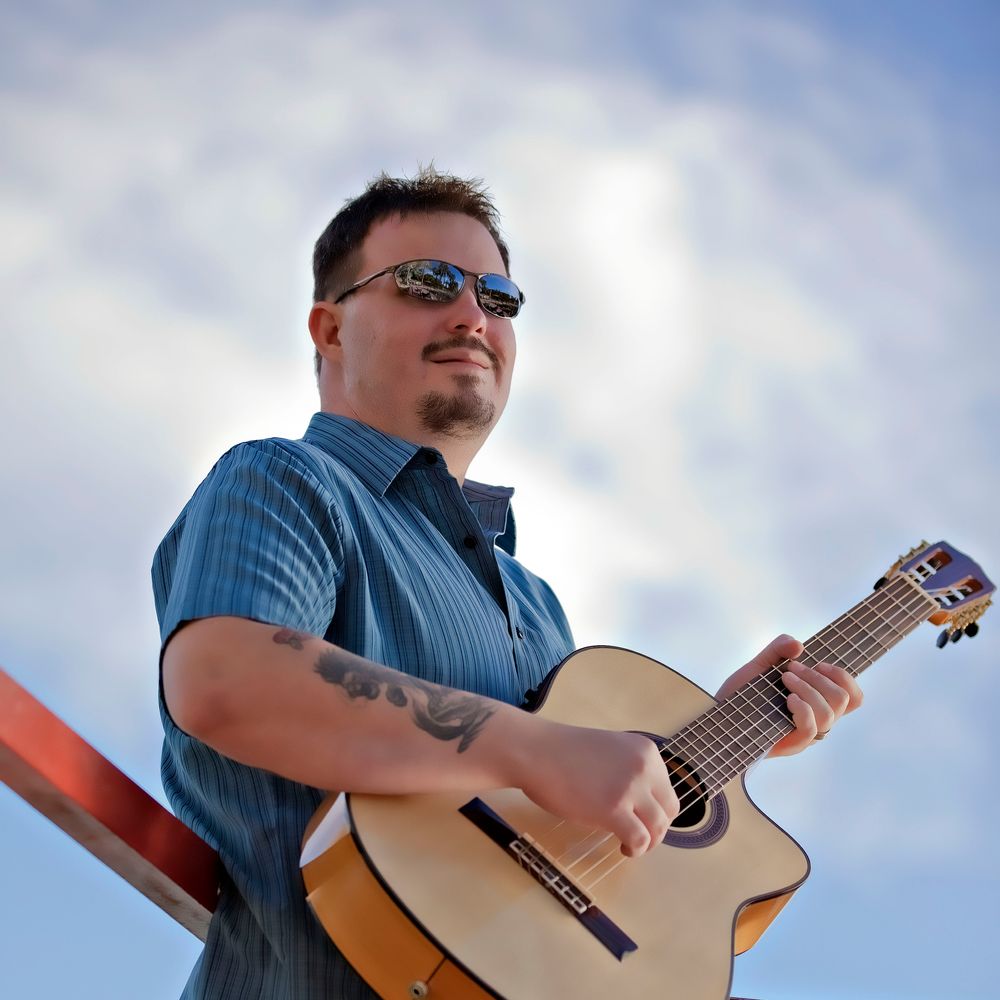 Shawn Brock
Musician
Hailing from the Appalachian mountains of Harlan County Kentucky, there is only one word to describe Shawn Brock's music and life experiences, and that word is diverse. Due to his blindness, which inhibited him in his favorite sport of baseball, Shawn began his musical endeavors at the age of nine. Brock gained a reputation as a champion flat-picker on both mandolin and guitar, and by the age of eleven, he had established a unique style which combined elements of his three favorite guitar players, Tony Rice, Carlos Santana, Angus Young, and others. During his high school years, Shawn broadened his musical interests into jazz and classical, and became an All-State nominee in both quire and saxophone. Additionally, he spent time studying violin, bass, and drums, along with cutting his teeth in the recording studio, where he produced two solo albums, and performed on countless others for local musicians. His reputation grew quickly, and Brock appeared regularly on the Wood Songs Old Time Radio Network, in addition to television appearances on TNN, WKYT, MNN, WPAC, and others; tabloids also took note of his youthful talent, and Shawn was the subject of feature articles in the Lexington Harold Leader, Louisville Courier-Journal, The Associated Press, and more.
At eighteen, he relocated to New York City, where he began working for Three Planet Studios as a session musician, at which time he recorded music for many television series such as Becker, Law and Order, and others, along with commercial jingles for Hallmark, Folgers Coffee and Kodak, just to name a few. Three Planet discontinued operations in New York, and sent Brock to work in their Cincinnati location, and it was here where he began creating musical backgrounds for the History Channel, ABC, CBS and NBC. Unfortunately the Cincinnati location decided that all operations were to soon move to Las Angeles, and this was a move which Brock was not willing to make. Instead, he relocated to Nashville, where he quickly established himself as a quality session musician, and reliable touring mate. He worked with such acts as Sara Evans, Lonestar, Eldon Huff, Sarah McLachlan, Joe Nichols, and countless others. From these experiences, Shawn further increased his knowledge and skills of the recording and production process, and began independently engineering, mixing and producing albums for others. Operating as an independent, he once again began working for television networks as a sound designer, on many programs which still air today.
In 2008, Shawn developed an increasing interest in the classical guitar, and began studying with Andrew Winner of Northern Kentucky University, and set to work on his first solo album in eleven years. Sketches of Love and Fury was the result of his efforts; a seventeen song collection which best fit into the musical genre simply titled "World". The collection showcased Brock's abilities on classical/ flamenco guitar, electric and acoustic guitar, drums, horns, bass, keyboard, hand percussion, mandolin, song writing, and arranging. The album was so diverse that it gained traction in many radio markets which he had previously left unexplored. Acting on his desire to step out as an instrumentalist, Shawn quickly capitalized on the successes of Sketches of Love and Fury, and followed it up with Sight Unseen in 2011, which was tailored for the Smooth Jazz market. It proved a success, and charted for fifty-four consecutive weeks, was featured on the Weather Channel, and other television outlets. Later in 2011, he released A 6String Christmas, which was acclaimed as one of the most delightful holiday albums of the year.
Like a homing pigeon, 2014 saw Brock return to his Bluegrass Roots when he formed the band Shotgun Holler, with long-time friend Matt Jones; along with band-mates Gil Benson, Alex Benafel, Rod Lunger and Nathan Treadway, the unit's first release Loaded, sported four top-five singles. They were featured on CMT's Josh Wolf Show, Siris-XM's In Studio Live, Track By Track, and more. Today Shawn still focuses on his musicianship, produces and plays on recordings, teaches private and Youtube lessons, and tries to give as much of his musical knowledge away as possible. He has a new Bluegrass record coming out later in 2020, which features his song-writing and arranging, vocals, guitar, mandolin, fiddle, banjo and bass skills, along side other prominent musicians. Brock also has a new Smooth Jazz album in the pipeline, along with his autobiography, which will be published soon. He has played on nearly 1300 recordings and counting, and during his free time enjoys life by spending time with his wife and children, managing his cattle, and watching reruns of the Andy Griffith Show. Shawn resides in South Texas, and is available to go where musical duties call.